Great news... Countdown are going to reduce the amount of wasted fruit and vegetables due to the aesthetics. The first produce to join The Odd Bunch will be hail-damaged stone fruit and carrots, with more fruit and vegetables appearing on shelves in the next few months.
Countdown's general manager merchandise, Chris Fisher, said the campaign was about reducing food waste, supporting growers by taking more of their crop, and helping to make healthy food more affordable.
"There are any number of reasons why produce might look a little unusual, from growing at an odd angle to being affected by the weather. It still tastes great and is just as nutritious as regular produce.
"We think many shoppers will forgive a little ugliness to help combat food waste and save."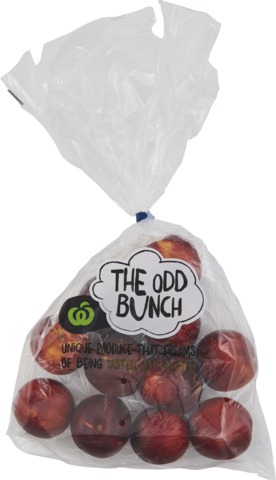 "Imperfect fruit and veges can still be delicious."
Kevin Wilcox, managing director of fruit and vege grower A S Wilcox and Sons is supplying onions, carrots and potatoes with branches in Ohakune, for The Odd Bunch.
"As a grower we take pride in supplying premium quality vegetables, however, it's frustrating to witness a portion of our produce going to waste simply on account of shape or other cosmetic defect that has no bearing on the taste or nutritional value of the vegetable."
The Odd Bunch is packaged in polyethylene, a single resin recyclable plastic that can be recycled in selected stores as part of Countdown's soft plastics recycling programme.
Prices will vary depending on seasonal price fluctuations and stock availability.
Story is sourced from - NZ Herald